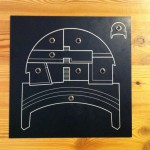 This gallery contains 13 photos.
Visit to Bastard Store Headquarter with Lorenzo Bini
In a month the new MIAW2015 edition will take off at the School of Architettura e Società and will bring together 11 mentors coming from all over Europe, and with a presence from Brazil, and 220 students from all study course and from different levels (BA and MSc): the school will be for two weeks completely focused only on the intensive workshop programme and its related activities (kick-off-lecture, conference series and closing exhibition).
You will be able to follow us on this blog and all the other social network MIAW is present (youtube, issuu, flickr).
Here are our Guests: